Gold Coast Acupuncture Location
Our clinic is located in the Coomera Shopping Village across the road from the Boathouse Tavern. The Coomera Shopping Village is on the corner of Dreamworld Parkway and Yaun Street. Our shop is on the Yaun Street side just across from the soccer fields. A detailed map is located at the bottom of this page.
Clinic Address: 13/31 Dreamworld Parkway, Coomera QLD 4209
Gold Coast Acupuncture Phone Number
You may call us at our Coomera clinic directly on the following number.
Phone: (07) 5573 6601
We are open Monday to Saturday 8am-7pm by appointment only.
Reception hours are Monday to Friday 8:30am – 5:00pm.
Outside reception hours we cannot guarantee that your call will be answered and therefore we recommend using our online booking service. Outside of these reception hours a practitioner may be able to take your call however if not please leave a message and your call will be returned as soon as possible.
Book an Appointment Online (24/7)
To book online please use the system below. Please note that online bookings must be made at least 4 hours in advance. If you wish to book an appointment sooner than this timeframe you must call us on 5573 6601.
Important: Your Booking is NOT complete until you receive an SMS with your Appointment date and time (as shown below).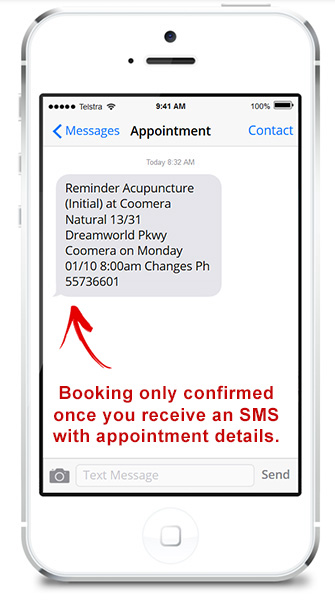 The booking system will allow you to search for your appointment day and time. After you have chosen your desired appointment date and time the system will show you a reservation summary. You MUST click on the BOOK button to finalise the appointment.
Please ensure you have made it to STEP 4 (Appointment Summary) in the booking process as shown in this image below.

When you have made it to step 4 the system will automatically send you an SMS message to your phone. The text will show display your appointment date and time. This is confirmation that the booking process was completed successfully. If you have not received this SMS within 1 minute of making your booking then the booking has not been made and we recommend calling our clinic on (07) 5573 6601. If you have received a password SMS then the booking has not been completed. The SMS must show the date and time of the appointment for the booking to be complete. Note: Our system will only send SMS between 9am-10pm AEST.
24 Hour Cancellation Policy: All treatments booked with Gold Coast Acupuncture are subject to a 24 hour Cancellation Policy outlined on our Frequently Asked Questions page here.
If nothing has appeared below after 30 seconds please book by calling
Phone: 5573 6601
Bookings are strictly by appointment only. We do not offer walk in appointments under any circumstances.