Pricing and Health Fund Rebates
What is the cost per treatment?
Our pricing is explained further on this page with treatments starting from $39.
Do you bulk bill with Medicare?
We offer a quality 60 minute treatment for all our clients and therefore we cannot bulk bill or accept Medicare. We do however provide rebates on Acupuncture with private health providers such as Medibank, MBF and HCF.
Do you offer cover with Private Health for Acupuncture?
Yes, we offer private health fund rebates for Acupuncture with over 30 private health providers such as Medibank, MBF and HCF.
Do you offer cover with Private Health for Massage?
We offer private health fund rebates for our Remedial Massage only. Private health fund rebates are not available for Relaxation or Deep Tissue Massage.
Do you offer Instant Health Fund Rebates / HICAPS?
Yes we other instant health fund rebates with our Healthpoint (HICAPS) system.
Do you offer EFTPOS?
Yes, all our clinics have EFTPOS/Credit Card facilities.
Do you offer GIFT VOUCHERS?
Yes, you may purchase a gift voucher over the counter at our Coomera Clinic.
Acupuncture Treatment Questions
Does Acupuncture hurt?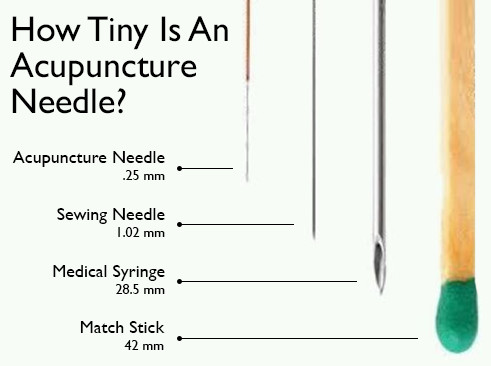 No, Acupuncture does not hurt. Acupuncture is virtually painless. Acupuncture needles are ultra-fine unlike large doctors needles. You can fit many Acupuncture needles down the hollow barrel of a doctors needle. Now thats small!
Our practitioners use a gentle insertion technique where the needles can hardly be felt during insertion.
Let's also put the size of the needles used in an Acupuncture treatment into perspective. You could fit approximately 8 Acupuncture Needles inside a typical Doctor's Medical syringe. Acupuncture needles are rounded towards the tip where as a medical syringe is sharp.
At our Acupuncture Gold Coast clinic we use ultra fine Japanese needles which are even smaller than traditional Chinese Acupuncture needles.
Do you offer alternatives to needles?
Chinese Medicine does not necessarily mean that we have to use needles. We offer many needle free therapies including cupping therapy, chinese herbal therapy, chinese dietary therapy and massage.
How long does a treatment take?
Your initial consultation and treatment takes 60 minutes. Please arrive 5 minutes early to fill out appropriate paperwork. A followup treatment lasts 45 minutes.
Why choose Gold Coast Acupuncture?
Gold Coast Acupuncture offers you real Acupuncture provided by fully qualified and registered Acupuncturists with a minimum Bachelor Level Degree of Acupuncture training.
Do you offer mobile visits?
We are able to offer mobile Acupuncture visits on request and at the discretion of the practitioner.
What do you provide support for?
Common Conditions
We aim to reduce the symptoms associated with common conditions such as:
All types of pain, Headaches, Migraines, Neck Pain, Back Pain, Muscle Pain, Arthritis, Muscle Problems, Sports Injuries
Stress, Anxiety, Depression, Mood swings, Sleep Problems / Insomnia, Weight Management and Weight Loss
We provide support for:
We offer:
Booking Related
24 Hour Cancellation Policy
In respect to our wait-listed clients, and also to our therapists who as small business owners in their own right, we request a minimum of 24 hours notice to change or cancel an appointment. If you provide less and we are unable to fill your appointment, our policy is that your therapist may apply a cancellation fee equivalent to your treatment cost. This fee may be waived at the discretion of your therapist only – please ask to speak directly to your therapist about this if you feel application of a cancellation fee is unjust for any reason. Please note that if you simply do not show up to your appointment, or if you cancel at very short notice, your therapist may also require pre-payment of future appointments to confirm them.
Where are your clinics located?
We currently have one clinic at Coomera. Bookings are strictly by appointment only. We do not offer walk in appointments under any circumstances.
Gold Coast Acupuncture Location
The Gold Coast Acupuncture Clinic is located in the Coomera Shopping Village at 13/31 Dreamworld Parkway, Coomera across the road from the Boathouse Tavern in Coomera. The Coomera Shopping Village is on the corner of Dreamworld Parkway and Yaun Street. Our shop is on the Yaun Street side just across from the soccer fields. This is a great Location for the surrounding suburbs of Coomera, Upper Coomera, Oxenford, Helensvale, Pimpama, Ormeau, Willowvale, Tamborine Mountain and Hope Island.
Book your appointment
Call our Clinic
You may call us at our Coomera clinic directly.
Phone: (07) 5573 6601
Book Online 24/7
You may book an appointment online by clicking here.