Dry Needling Gold Coast
What is Dry Needling?
Dry needling, also known as myofascial trigger point dry needling is a technique that involves the use of Acupuncture needles. It involves the use of either solid filiform needles or hollow-core hypodermic needles for therapy of muscle pain, including pain related to myofascial pain syndrome. Dry needling is sometimes also known as intramuscular stimulation (IMS).[1]
The origin of the term "dry needling" is attributed to Janet G. Travell. In her book, Myofascial Pain and Dysfunction: Trigger Point Manual, Travell uses the term "dry needling" to differentiate between two hypodermic needle techniques when performing trigger point therapy.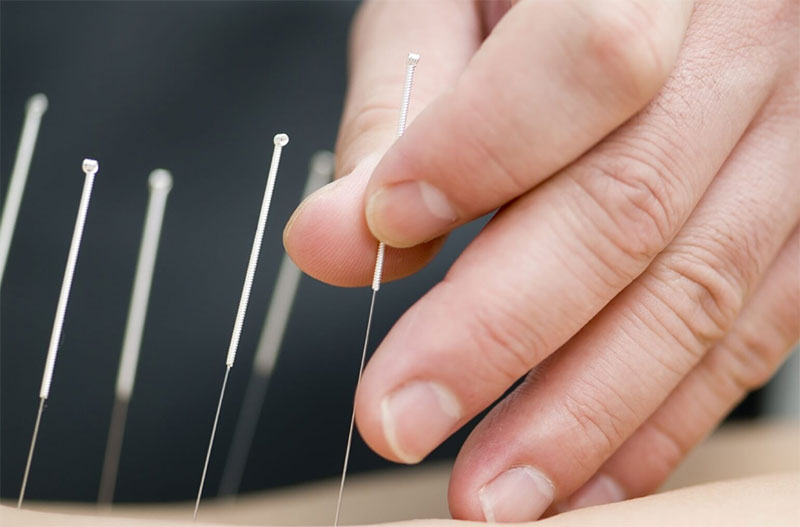 Is it the same as Acupuncture?
Yes, Dry Needling is basically another name for Acupuncture.
Chinese style tendinomuscular Acupuncture relies on careful palpation of what are called "Ah Shi" points, which often correspond to both trigger points and/or motor points in the myofascial tissue. Chinese style tendinomuscular Acupuncture tends to use lower gauge (thicker) needles necessary for puncturing contraction knots with a high degree of precision. On the other hand, lighter styles of acupuncture, such as Japanese style, and many American styles, may tend towards very shallow insertions of higher gauge (thinner) needles. Most acupuncture styles, especially those with lighter techniques, require a detailed knowledge, not only of anatomy but also of the channel networks and connections. Thus, while some forms of Acupuncture are not at all the same as dry needling, the term dry needling can refer quite specifically to what is now called Myofascial Acupuncture, Tendinomuscular Acupuncture, or some version of Sports Acupuncture.
Technique
In the treatment of trigger points for persons with myofascial pain syndrome, dry needling is an invasive procedure in which a filiform needle is inserted into the skin and muscle directly at a myofascial trigger point. A myofascial trigger point consists of multiple contraction knots, which are related to the production and maintenance of the pain cycle. Deep dry needling for treating trigger points was first introduced by Czech physician Karel Lewit in 1979.[16] Lewit had noticed that the success of injections into trigger points in relieving pain was apparently unconnected to the analgesic used.[17]
Training – Acupuncture Vs Dry Needling
Dry Needling Practitioner – 16 hours Minimum
Dry needling practitioners only require a minimum 16 hours in training before being qualified to perform the practice. There is no regulatory body or legal requirements apart for local government regulations regarding skin penetration.
Acupuncturist – 4 year Bachelor degree with 400 hours Clinical Practice
Registered acupuncturists have significantly more training in Acupuncture and dry needling with a minimum 4 year Bachelor Degree including approximately 400 hours of clinical practice.
Dry Needling Gold Coast Location
The Gold Coast Acupuncture Clinic is located in the Coomera Shopping Village at 13/31 Dreamworld Parkway, Coomera opposite the Boathouse Tavern. This is a great Location for the surrounding suburbs of Coomera, Upper Coomera, Oxenford, Helensvale, Pimpama, Ormeau, Willowvale, Tamborine Mountain and Hope Island.

Book your appointment
Dry Needling (Acupuncture) is available at our Coomera Clinic. If it is your first visit please make sure you arrive 5 minutes early to fill out paperwork. All our therapists are qualified and trained professionals.
Call our Clinic
You may call us at our Coomera clinic directly.
Phone: 5573 6601
Book Online 24/7
You may book an appointment online by clicking here
References
1. Zhou K, Ma Y, Brogan MS (2015). "Dry needling versus acupuncture: the ongoing debate". Acupunct Med. 33 (6): 485–90. doi:10.1136/acupmed-2015-010911. PMID 26546163.
2. Doree, Jim. "Journal of Manual and Manipulative Therapy – Vol. 14, No. 4". jmmtonline.com.
3. "Traditional Acupuncture and Myofascial Trigger Point Dry Needling and Acupressure for Chronic Low Back Pain – Full Text View – ClinicalTrials.gov". clinicaltrials.gov.
16. Baldry, Peter; Yunus, Muhammad B.; Inanici, Fatma (2001). Myofascial pain and fibromyalgia syndromes: a clinical guide to
diagnosis and management. Elsevier Health Sciences. p. 36. ISBN 0-443-07003-2.
17. K. Lewit (February 1979). "The needle effect in the relief of myofascial pain". Pain. 6 (1): 83–90. doi:10.1016/0304-3959(79)90142-8. PMID 424236